Welcome to Phoenix Pool Patio & Landscape Design
Swimming Pool Builders in Phoenix
DESIGN. REMODEL . CONSTRUCTION
Start your project Today!
BEST SWIMMING POOL BUILDERS IN PHOENIX
Welcome to Phoenix Pool Patio & Landscape Design Company, your foremost destination for top-notch swimming pool builders in Phoenix, Arizona. We specialize in creating elegant swimming pool designs, engaging in professional construction, and revitalizing your pool spaces through remodeling services in Phoenix. Backed by a great history in the business and a taste for innovative concepts, our seasoned pool builders in Phoenix are eager to transform your backyard into a deluxe retreat.
At Phoenix Pool Patio & Landscape Design, we deliver an extensive suite of services, meeting every demand related to your swimming pool project. We walk with you from the initial phase of your dream pool design, backed up by our imaginative team, through to the highest quality pool construction process, adhering to the highest standards. Our pool remodeling service adds value to your existing pool setup, making us your comprehensive solution for backyard makeovers.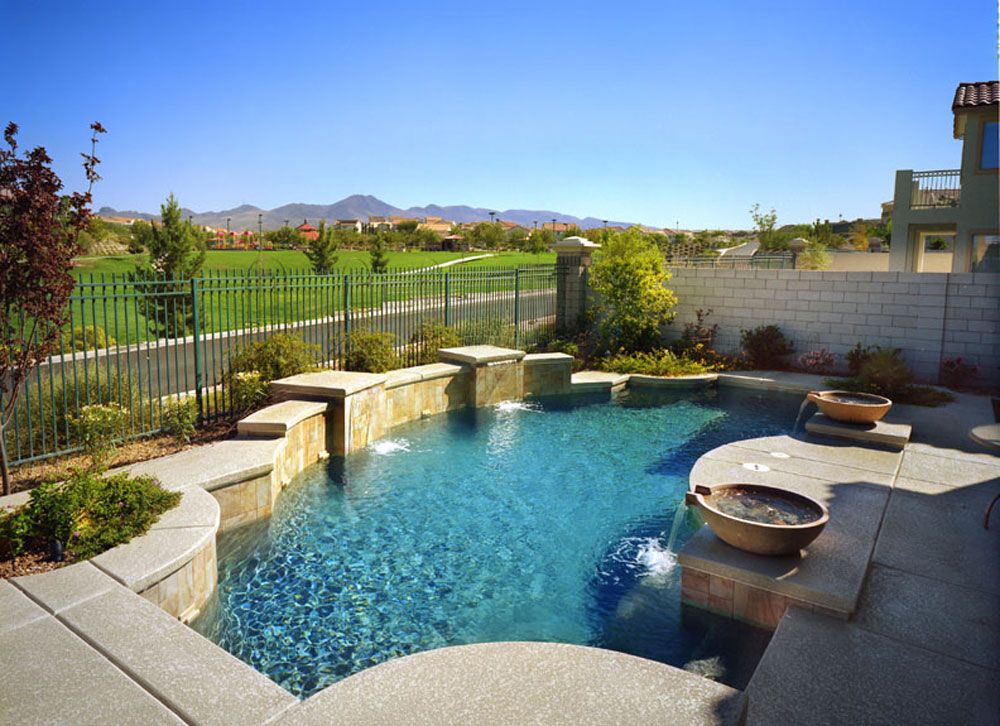 COMPLETE POOL BUILDING SERVICES IN PHOENIX
Phoenix Pool Patio & Landscape Design is honored to provide a complete swimming pool and outdoor living space solution. We provide first-class pool building services in Phoenix. Our dedication to delivering perfection, pioneering designs, and extraordinary craftsmanship positions us as your go-to experts for bringing your dream pool to life
Custom Pool Design:
Our custom pool design service is one of our biggest strengths. We collaborate closely with you, understanding your ambitions, tastes, and lifestyle. We understand that not everyone has the same size of backyard, and everyone has their own preference. That is why our proficient team sketches a blueprint for your custom pool that mirrors your vision.
Pool Building:
We are the best when it comes to Pool construction in Phoenix. We strictly adhere to industry standards when it comes to building your pools. Our skilled Phoenix pool builders contribute their years of experience and ensure no corners are cut when building your dream pool. Our expert builders facilitate a smooth and effective pool-building process.
Pool Remodeling:
Tired of seeing the same pool for years? Well, worry not because Phoenix Pool Patio & Landscape Design presents Pool remodeling services in Phoenix. We offer a complete makeover for your swimming pool, infusing it with fresh charm. We work closely with you, valuing your design preferences, and craft a revamped pool design that meets your aspirations. Why settle for a dated pool design when Phoenix Pool Patio & Landscape Design can fashion the pool of your dreams?
Pool Maintenance:
In addition to designing and building swimming pools in Phoenix, we offer pool maintenance services, ensuring that your pool remains in impeccable condition over the years. Our comprehensive maintenance services extend your pool's life, maintaining peak functionality. From equipment checks to surface scrubbing, we've got you covered. We also provide pool safe fencing solutions to enhance your pool area's security.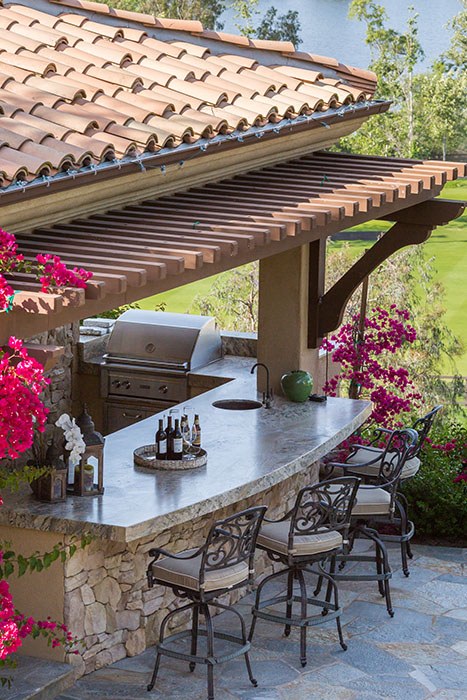 DIVERSE POOL DESIGNS WE PROVIDE: UPGRADE YOUR BACKYARD WITH A VARIETY OF EXCELLENT CHOICES
At Phoenix Pool Patio & Landscape Design, we're excited to showcase an extensive selection of popular pool designs that will metamorphose your backyard into a riveting haven. Our adept Phoenix Pool builders leverage their extensive experience to create a wide array of pool designs, each customized to align with your distinct preferences, eliminating the need for generic pool layouts.
Acrylic Pool Designs:
Our acrylic pool designs cater to those who prefer a sleek, modern aesthetic pool design for their backyard. Outfitted with transparent acrylic panels, these pools offer an immersive underwater vista, enhancing your pool experience to unseen levels. Experience the future of pool design with our acrylic offerings at Phoenix Pool Patio & Landscape Design.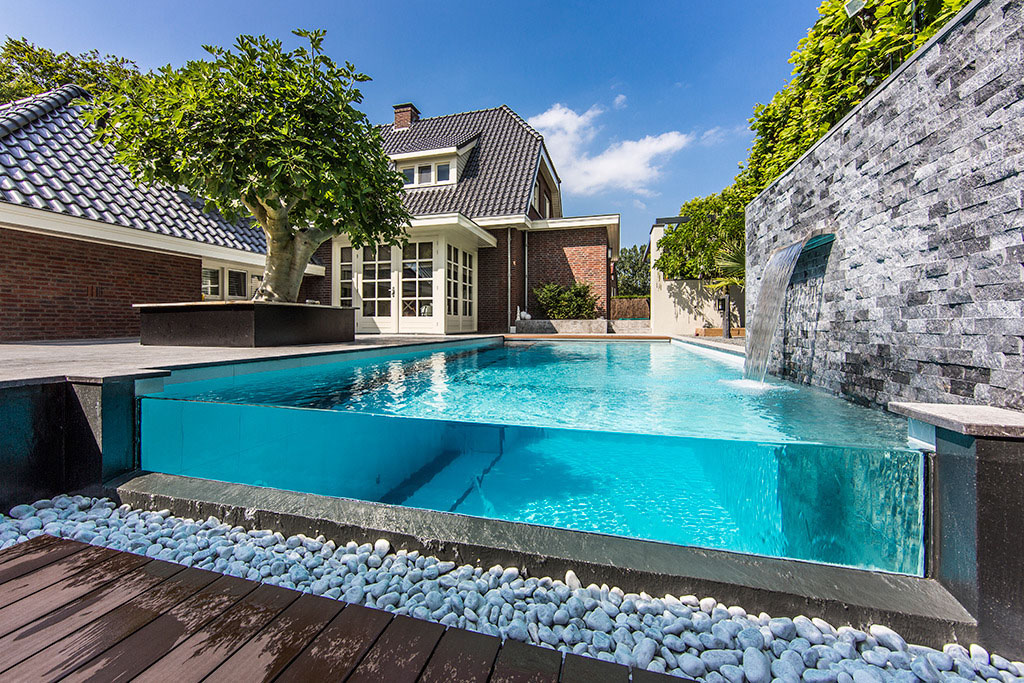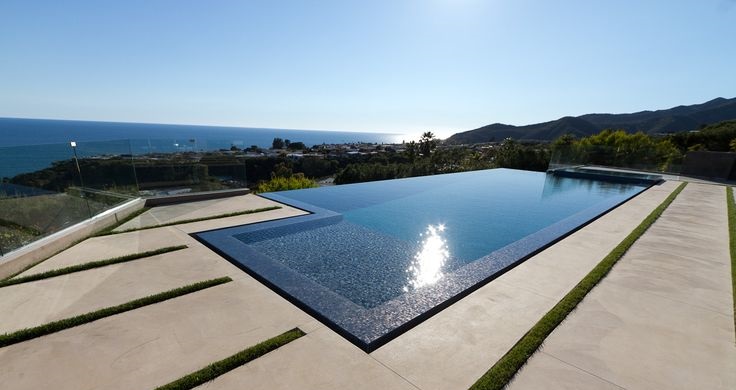 Infinity Pools:
Infinity pools denote elegance and offer an enchanting view. We provide Infinity pool building services in Phoenix. Our Phoenix pool builders will construct a pool that seamlessly integrates with your landscape, offering a visual continuity, mimicking the infinity illusion.
Lap Pools:
Our Lap pool building service in Phoenix provides an excellent solution for those seeking fitness and leisure in one space. If you desire a dedicated area for swimming workouts and relaxation within your home's comfort, a lap pool design could be your ideal choice.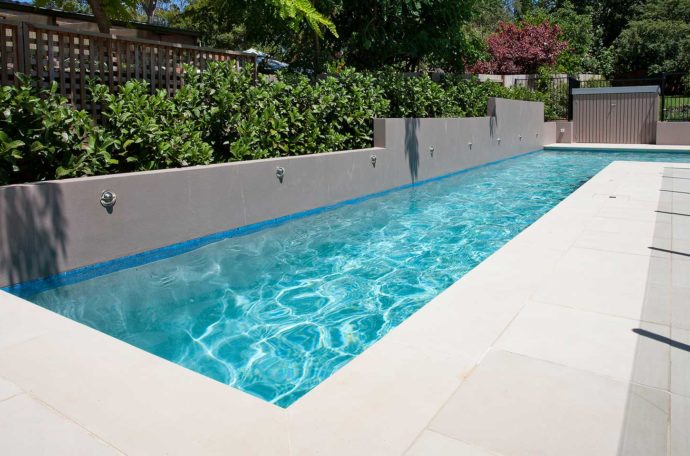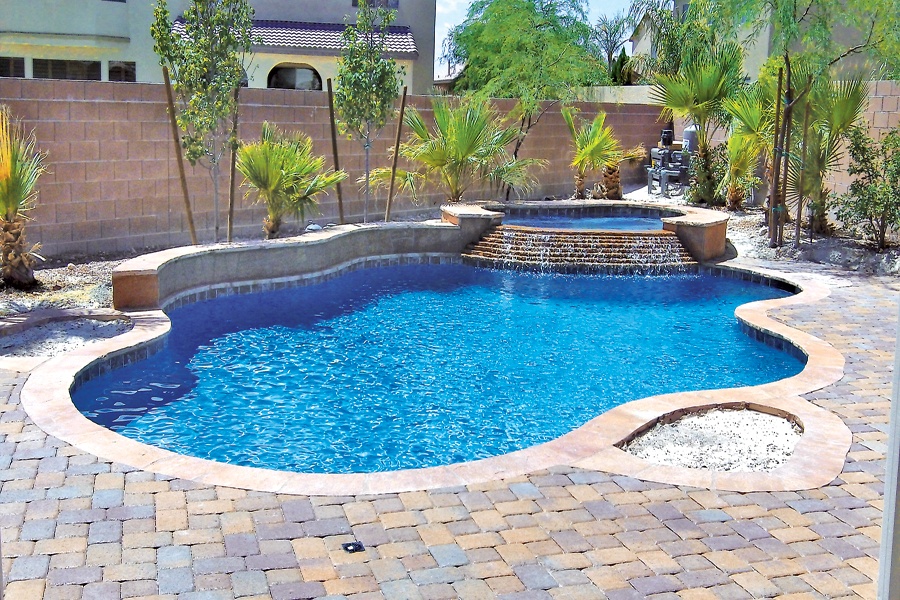 Inground Pools:
Phoenix Pool Patio & Landscape Design provides popular inground pool designs. These inground pool designs reflect timelessness and elegance. Our inground pools harmoniously blend with your landscape, providing a seamless and classy extension to your outdoor space.
Above-Ground Pools:
We also cater to those seeking more affordable swimming pool solutions with our above-ground pool building service in Phoenix. Experience the flexibility and convenience of our above-ground pools, an exceptional choice for those desiring adaptable solutions.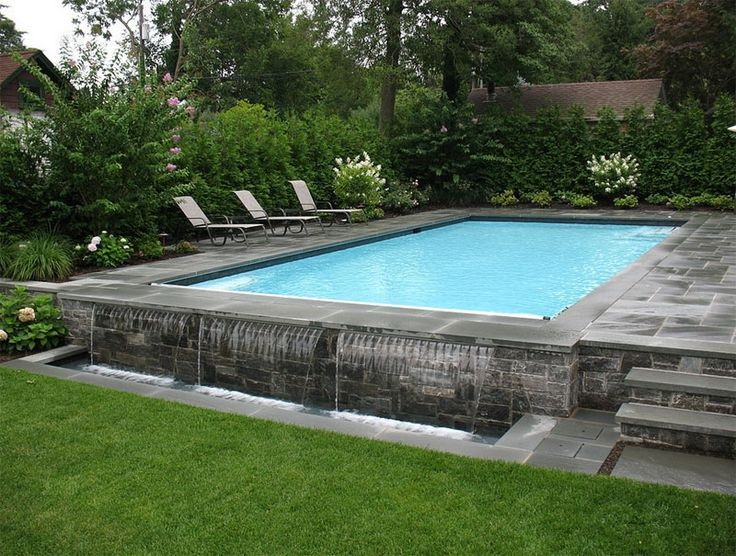 Plunge Pools:
We offer plunge pool designs for clients with limited space. These compact pools are perfect for a quick dip to beat the heat and relax in style without needing extensive space. 
Custom Pool Designs Based on Customer Requests:
At Phoenix Pool Patio & Landscape Design, we are dedicated to manifesting your vision. Apart from our popular designs, we provide custom pool designs. Our designers work hand-in-hand with you to translate your ideas into a beautiful reality. We craft the perfect pool design based on your preferences, yard dimensions, and lifestyle.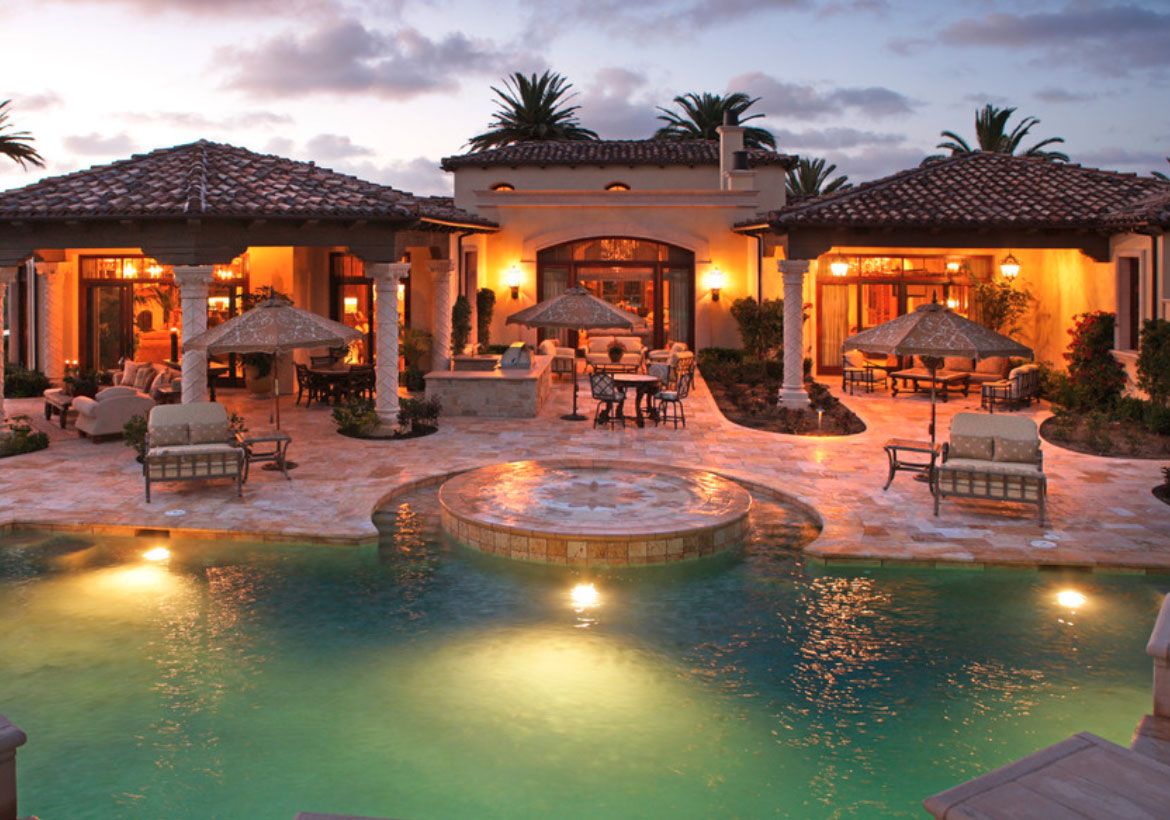 READY TO DIVE INTO THE POOL OF YOUR DREAMS?
Unleash Your Backyard Oasis – Enjoy The Ultimate Pool Experience With Our Top-tier Pool Design, Building, and Remodeling Services. Dive into Your Dreams Now!
OUR RECENT CUSTOM POOL BUILDING PROJECTS
WHY CHOOSE PHOENIX POOL PATIO & LANDSCAPE DESIGN FOR YOUR POOL PROJECT?
Phoenix Pool Patio & Landscape Design is famous for its quality work and exceptional customer service. When you choose us, you tap into a reservoir of expertise. Our standout custom pool design services ensure a stunning pool that compliments your backyard's aesthetics. Right from the very beginning, we work closely with our clients, tailoring custom solutions that align with your vision.
Our commitment to quality craftsmanship guarantees a pool that stands the test of time. We offer a complete solution to fulfill all your pool needs, ranging from pool design to pool building and maintenance. Customer satisfaction is at the heart of our operations, and we go the extra mile to exceed your expectations. We bring creativity and innovation to each project, offering a vast selection of pool types, including popular designs and customizable options.
As a trusted local pool building company in Phoenix, we are familiar with Phoenix's climate and regulations, providing you with a stress-free experience throughout the process. You can count on us for reliable service, punctual project completion, and quick customer service. You can experience superiority in pool design and construction with Phoenix Pool Patio & Landscape Design – contact us now to embark on your pool project journey.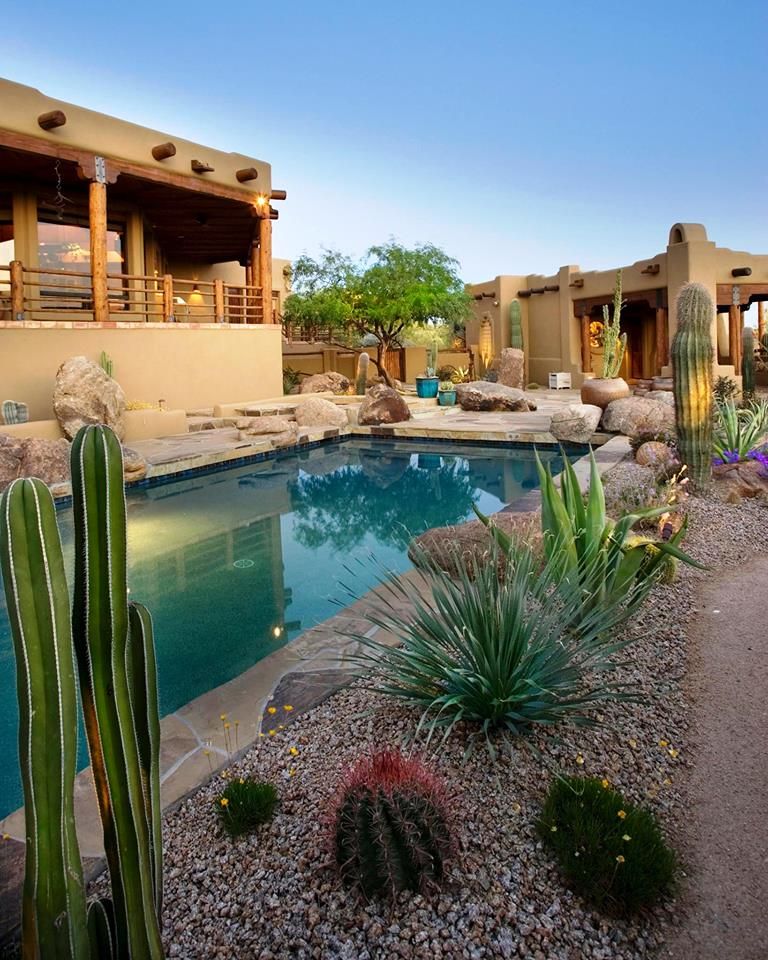 Skilled, neat and professional service provided by phoenix Landscape Specialist. Very reasonably priced as well. Ariel cleaned up my wooded lot after it being left in shambles by home builder after construction. We are very pleased with the results, and our neighbors are asking who did the great work.
I highly recommend phoenix Landscape for your landscaping needs. They have helped me with the design, installation and maintenance of our front and backyard gardens. Every season, I look forward to their great work. I can't recommend phoenix landscape enough; I have been so pleased with their great work and so will you!
ELEVATE YOUR BACKYARD WITH A CUSTOM POOL
Let our team of experts at Phoenix Pool Patio & Landscape Design bring your dream pool to life, tailored to your unique preferences and lifestyle. Don't put your dreams on hold – take the first leap toward your ideal pool today! Hit the "Call Now" button to speak with our pool building experts and initiate your pool project. Allow us to enhance your outdoor living experience with a stunning and personalized pool that will be the highlight of your home for years to come. Contact us now!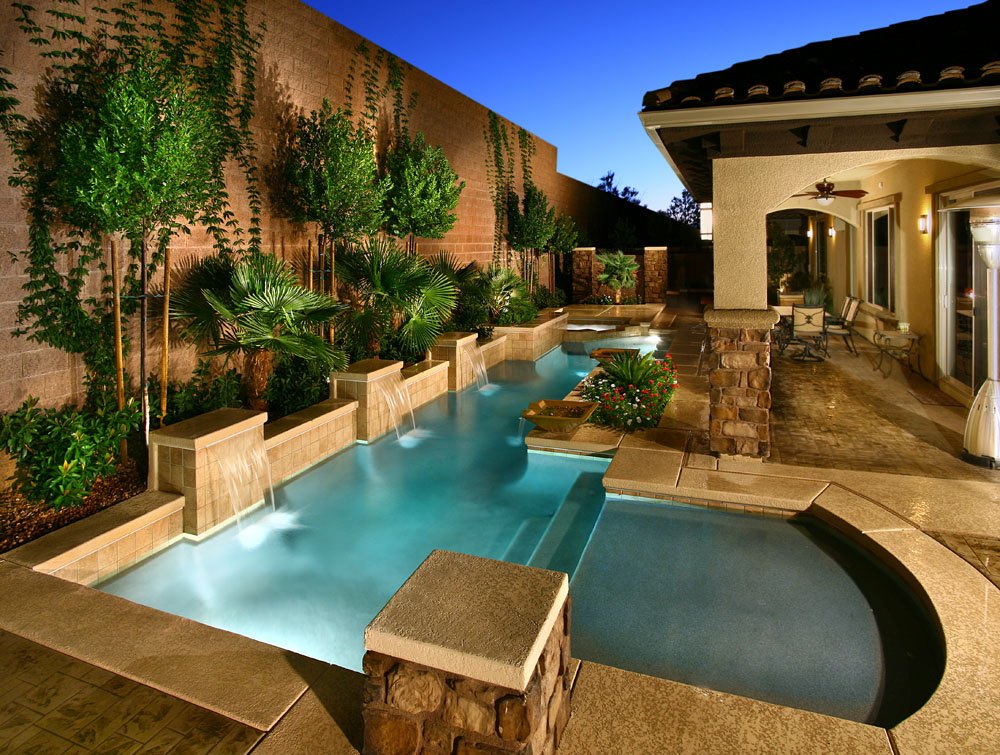 CONTACT DETAILS
If you have any questions or enquiries please feel free to contact us on the following details provided below, or please fill in our online enquiry form.
Phoenix Pool Patio & Landscape Design
Phone
602-926-2882
Postal Address
18250 N Cave Creek Rd Phoenix AZ 85032